GRADING AND EXCAVATING
COMMERCIAL
Commercial Grading & Excavating
First things first, we are professionals, and so are you.  So we can both agree that the services we offer should be completed in a professional manner.  We make sure that details are understood (even the small ones), that work is carried out with quality in mind to produce the best results, and to do everything efficiently within a scheduled time. We have successfully completed many different jobs ranging from a simple ground leveling to a contract well over a quarter of a million dollars.
Feel free to give us a call.  We offer free quotes, competitive rates, and reliable service.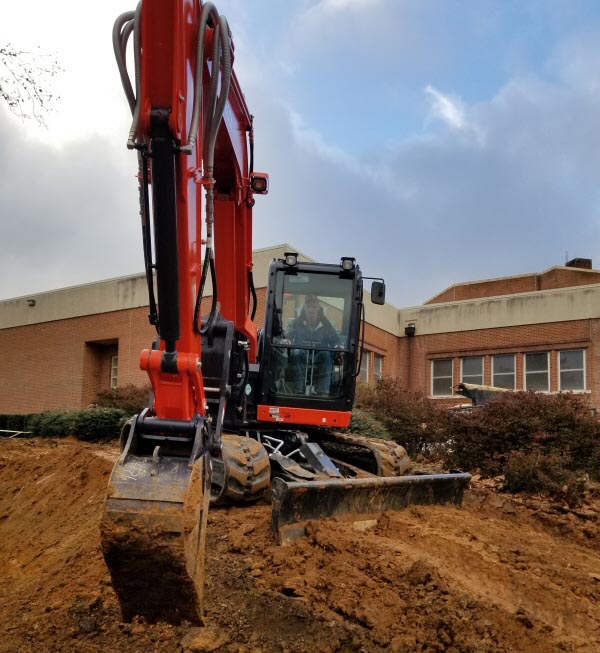 Clearing
Whether you want a space flattened out, raised up, or even turned into a mountain, we can do it. While we're at it we can remove and clear trees, pre-existing formations, or whatever you want gone. We work in a timely manner to correctly get the job done and to make unwanted things disappear.
Pads
Our company knows and and understands how important it is to do quality work on a pad site or outparcel. Being the first thing the public sees when entering a shopping center, aesthetics are crucial. We take pride in being meticulous when making the perfect pad for your company and will strive to create your correctly.
Parking Lots
If you have a smaller spot right off the road or have acres to work with, we can maximize your parking lot's potential.  With either new construction or reformatting existing parking lots, we've got the know-how. We can safely create a parking lot that will fit both your company's and your customer's needs. Everybody wins!
Roads
There's nothing like driving on a smooth road.  And you know what they say?  "All roads lead to…well, you and your company!" And we'll make sure they do in a safe and satisfactory way. Let's get those customers coming to the right place on the right road, made by the right company, Dyer's Grading and Excavation.
General Site Preparation
On any project, preproduction and planning is key to a satisfactory outcome. We care about your end result.  Why? Because its our end result too. We want to make sure its quality work that meets and hopefully exceeds your expectations. We can move it, take it away, change it, you name it, we got it.
Septic
Our team has dealt with and specialize in all manner of septic systems. We can install and/or upgrade anything you need. Our company knows land and how to predict the best placement for most structures. We know what to avoid and what to alter so that you have the best working septic system possible.