GRADING AND EXCAVATING
RESIDENTIAL
Residential Grading & Excavating
Based in Blairsville GA, Dyer's Grading & Excavation offers full service Residential grading and excavation services to Blairsville, Blue Ridge, Young Harris, Hiawassee, and the surrounding areas.
Our team of experienced professionals take pride in our work, no matter how large or small the project. Our company is Licensed and Insured, and has the expertise and equipment to ensure that your project is seen through to completion in a safe and timely manner.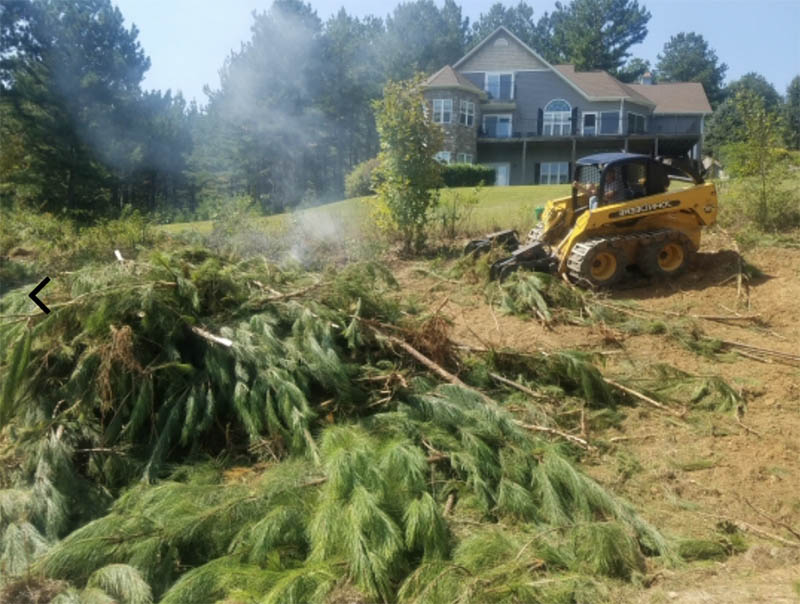 Turn-Key Residential Solutions
With with our excavators, dozer, and dump trucks, or our long arm mowers, our company can take on virtually any size job. We'll remove any and all trees, brush, debris, and anything else you need removed on your property.  
Learn more about our land clearing services >
Basements / crawlspaces
We can cut out and level the land you want to become your basement.  We'll create a swell so that drainage water will stay away and not seep in.
Roads
Around the country, over the river, or through the mountain, we'll make your road wherever you want it to go.
Tree Removal
Remember, we are insured, professional, and above all SAFE.  Though jobs have to get done in a timely manner, we will always put safety first.  This not only protects us working on a site, but also you and your property.  That being said, we can and will remove any and all trees from your property.
Septic Systems
Our team is licensed and specializes in septic systems. We can install, repair, and/or even upgrade anything you need from conventional septic tanks to pump systems.  We know land, and how to predict the best placement for most structures.  Both your septic tank and drain fields will be placed for optimum proficiency.  Also, we know what to avoid, and what to alter, so that you have the best working septic system possible.
Learn more about our septic services >
Burying / installing waterLines
We'll bury them all!  Whether if they're water lines, electric lines, internet lines, secret passages, or video cable lines, we can do the job right, and discreetly if necessary.
Bury Gas Tanks
Tired of looking at that huge bulk of an advertisement racket sitting on and taking up space on your property.  Let us know where you want it in the ground, and it'll be there, still operational.  Out of sight, out of mind.
General Site Preparation
Preproduction and planning, on any project, is key to a satisfactory outcome.  We care about your end result.  Why, because its our end result too.  We want to make sure its quality work, that meets and hopefully exceeds your expectations.  We can move it, take it away, change it, you name it, we got it.
Footers (if requested)
We can dig the trench for footers in no time, just the way you want them.
Driveways
How would you like your driveway?  Dirt, Gravel (all types), concrete, asphalt, cobble stone, or brick.  Just ask, we'll make it happen on new or old driveways.
Learn more about our driveway services >
Culvert Installation
Let's keep your driveway or road where it belongs.  With either a simple pipe, or one much bigger, we have the understanding of dealing with moving water, in the right direction.
Backfilling
Got a hole or trench and want if filled?  Give us a call and we can help.  With our expertise we'll know the right technique in order to get the best results.
Final Grading
After a job is complete, a final grading is necessary or without it problems can arise over time, and nobody wants that.  We've got the grading / excavation eye for these sort of things and can predict with great accuracy what should be done to a property to keep it looking it's best, long after the job is done.
Erosion Control
Erosion control is very important.  Nobody wants their house, or yard, or property in general to wash away.  Though it might not seem like it will now, most slopes and inclines may need special attention and care to keep from eroding away.  Especially if it is a water bank either near a pond or creek.  So the best thing to do is to call us, so we can take care of it before there is a problem.  Give us a call to come out and take a look at it.  We offer our expertise and depending on your case, we can use grass seeding, hay blowing, silt fencing, retaining walls, Rip Rap and or Surge Rock.
.
other services include(but not limited to):
Creek Bank Restoration 
Dyer's Grading can set up natural looking retaining materials to keep your creek beautiful and strong all year.  If you want to change it or make it fun for the whole family by adding a patch of sand, well, we can do that for you too.  Let's turn your property into a paradise.  And don't forget the beach chairs.
Drainage Issues
Sometimes the water will move the earth, and we are here to move the earth so that it can move the water, in the right direction. 
Parking Lots
If you have a smaller spot right off the road or have acres to work with, we can maximize your parking lot's potential.  With either new construction or reformatting existing parking lots, we've got the know-how.  We can safely create a parking lot that will fit your needs.
Water Front Development, including new ponds, and pond and creek / river repair
Working with and restoring waterfront properties and bringing it up to par with the surrounding area is crucial in today's real estate market.  With our expertise and your vision, we can make a property's value skyrocket.  With either pre-existing structures or whole new ones we can make your ponds, creeks, rivers, lakes, or anything in between what you want, and make it look the best.